Many people think that only acceptable camping food is BBQ and roasted marshmallows, but there are so many amazing meals and snacks you can prepare in nature. From nutritious breakfast foods to delicious lunches and finger-licking-good dinners, make sure to keep some of these ideas in mind next time you go on your camping trip. Make sure to plan your menu in advance so you can pack all the ingredients and cooking utensils. 
Breakfast 
Since breakfast is the most important meal of the day, don't neglect it in the woods either. Begin your day in nature with a nice meal and you'll have all the energy you'll need for outdoor exploration and fun. But, what can you make for breakfast that's not a boring sandwich? 
Read more Food Related Articles: 

It's All About Alaska Seafood
Reducing Food Waste in the Kitchen
Corporate and Events Food Cart Cutlery Guide
Pancakes
Why not? Just because you're not at home, it doesn't mean you can't enjoy some tasty pancakes. You can even pre-make your batter and put it in mason jars so you can just heat up your pan and whip up some pancakes in minutes. 
Granola bars
Most people choose to bring granola from home, but nothing beats fresh granola made over an open fire—the texture, aroma and taste are so much better. Grab some nuts and roast them in a cast iron pan. Once they get that nice color and nutty smell, add rolled oats, vegetable oil and maple syrup. Put in a bowl once the consistency is to your liking, add cranberries and eat warm. 
Moist scrambled eggs
Sure, everyone makes scrambled eggs when camping, but most tries end up being bland and dry. However, if you try this fool-proof method you'll get to enjoy a world of flavor and nutrients. Start by grabbing a deeper skillet and putting some unsalted butter. For each egg, put one tablespoon of water and one tablespoon of butter.
Put everything in the pan and mix so it gets nice and fluffy. You want it to be a slow process that will melt the butter and cook the eggs slowly, not burn them. Cooking over a fire isn't easy, but you can always find a good campfire cooking guide that will definitely make things clearer. There are various methods that you can try out during your trip and enjoy wonderful and easy meals. 
Cinnamon rolls 
When packing for your trip, make sure to throw in a can of Pillsbury Cinnamon Rolls. You can experiment with baking methods but this one is the most fun, especially if you're camping with kids. Grab a roll straight out of the can and insert it on a small double-pronged fork or roasting stick.
If you go single-pronged, you're risking some casualties (they fall off easily). Keep turning your stick so that they cook all over and get nice, soft and fluffy. Your ideal fire for this meal is hot glowing coals instead of open fire. You want your cinnamon rolls to cook slowly, not get scorched on the outside and stay raw in the center. 
Lunch
If you love your lunches light, these recipes are perfect for your midday meal. They are all easy to make super tasty yet not too heavy to make you sluggish during the day. 
Hot dogs 
Hot dogs are classic camping foods but make sure to try this recipe with a little twist. Chop one onion and 8 ounces of chilli and mix with 3 tablespoons of BBQ sauce. Have your hot dog buns at hand and fill each with the mix and put a gutted hot dog on top.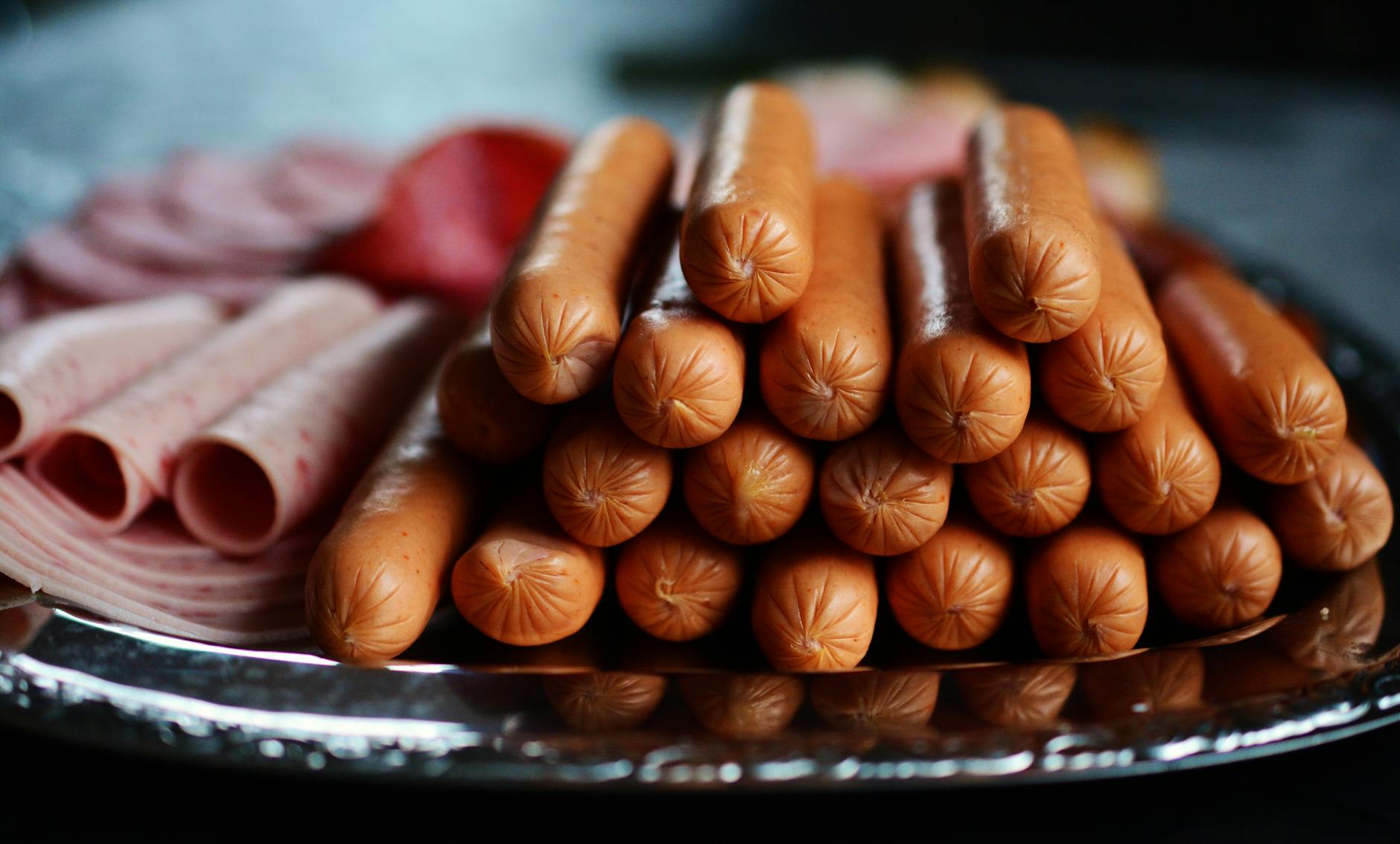 Close the bun and wrap each one individually in tin foil and grill over an open flame for 20 minutes. If you have the suitable fire, bury your wrapped hot dogs deep in coal and leave for 15 minutes. This is just enough time to cook the dogs all the way through and leave them nice and moist.  
Potato boats
If you have a lot of leftovers, this lunch idea is perfect for you. Take baked potatoes and cut them five times, but don't go all the way through. You want six different segments across each potato. Fill each segment with bacon, ham or cheese and put on a piece of tin foil. Finish the prep by putting little butter on top of each potato. Wrap the potato in foil and grill over a fire or bury deep in coal.
Pro tip: make sure to count how many potatoes you put in the fire because they tend to look like darkened coal when in fire! 
Fun quesadillas 
If you love grilled cheese sandwiches but prefer a more adult version (and want to use up some of those leftovers) grab some tortillas and get ready to make quesadillas. Scatter some bell pepper, green chillies, sausage and fresh herbs for extra taste. Finish with a generous serving of cheese and fold each tortilla and wrap in tin foil. Heat them over the fire until the tortilla is nice and crispy and cheese is melted. Cut into wedges and serve with salsa or hot sauce. 
Hearty salad
If you love to keep your lunch extra light, quick and easy and don't even want to light a fire yet, opt for a fresh salad. While lettuce won't last you more than a day or two, there are veggies that are quite durable. Carrots, bell pepper and cucumber will serve as a nice addition to your rice, couscous or quinoa base. Drizzle some lemon juice and olive oil on top or prepare a simple vinaigrette and you're done! 
Dinner 
Now, for the best part of the day, the evening, you want to make something special, yet simple and fast. These meals will end your day on just the right note and put you to food coma! 
Fried fish fillets 
Clean your fish, dry it and dredge them in flour. You want to make an even coating all over the fillet. Now grab a beer, take a few sips and put the rest of your beer (3/4 of the can) into the pancake mix. Mix until smooth and dip your floured fish fillets into the batter. Put your coated fish into hot oil and cook until golden brown and crispy. Once done, the inside will be nice and moist and the outside crispy. Consume with plenty of beer! 
Dutch oven pizza
This is a great way to prepare pizza in the wild. Take your crust and place in the bottom of your Dutch oven. Layer tomato sauce, cheese, pepperonis and mushrooms and cover the entire pie with mozzarella to seal the deal.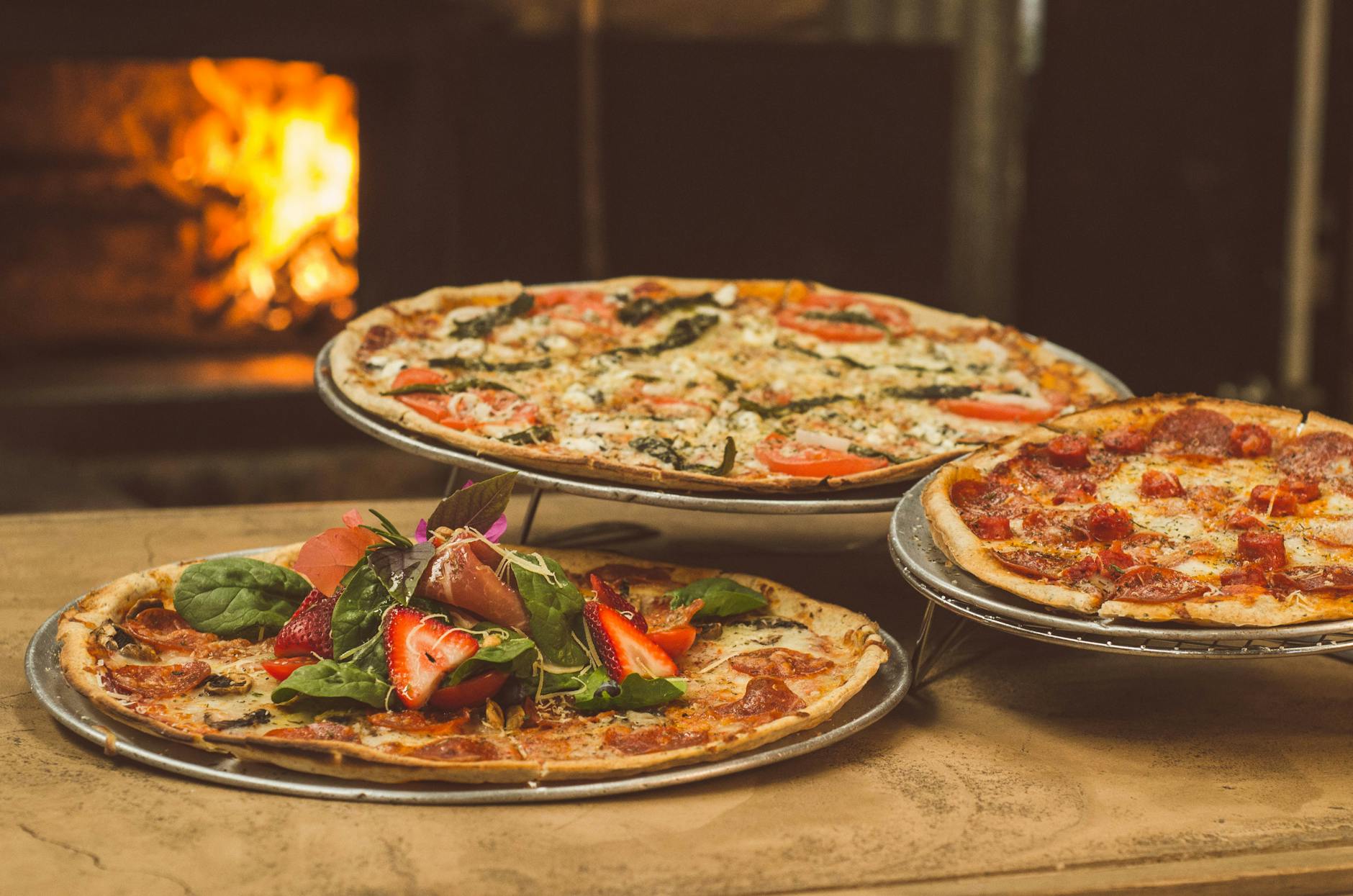 Put your Dutch oven in the coals, cover with the lid and put some coals on top of the lid. This will allow your pizza to cook from all sides and you'll have a finished product in about 10 minutes! 
BBB casserole 
This dinner is very filling and perfect for cold evenings. Grill some chopped bacon in a skillet and add ground beef when your bacon is half done. When your bacon and beef mix is almost done, add baked beans and some BBQ or steak sauce. Stir and wait until it boils. When cooked, layer biscuits on top, cover and let it cook on medium or low heat for another 10 minutes. Simple, easy and hearty! 
These breakfast, lunch and dinner ideas will definitely keep you full of energy during your camping trip. Experiment with ingredients and cooking styles and soon you'll have your new and improved versions of these delicious meals! 
Bio: Ian Lewis is a father, writer, and a fitness nut. He's passionate about many forms of strength training and spent years lifting all kinds of heavy objects.
His favorite quote: There are three ways to ultimate success: The first way is to be kind. The second way is to be kind. The third way is to be kind.