Alaska's bountiful and rewarding waters provide our country-and a good part of the world, too-with seafood of unrivaled taste and nutritional quality.  The sustainability of the Alaskan fisheries and the pristine condition of the waters off our northernmost state's coast help assure that that will be the case indefinitely; and thankfully so, since our appetite for seafood is simply insatiable. 
Among the many great products coming out of the Alaskan seafood industry, one of the most delicious as well as one of the least marketed has to be sablefish, and in order to help prop up the reputation of this remarkable species, here are a few sablefish recipes to execute the next time you get your hands on some. 
Sablefish is often marketed as black cod, even though it is not at all related to the codfish family.  It can be found either fresh or frozen in most supermarkets throughout the nation, and most definitely at seafood markets. 
For the first of our sablefish recipe, get your hands on some 160z fillets; make sure they are fresh, that the flesh is a healthy pale white and has a sheen to it.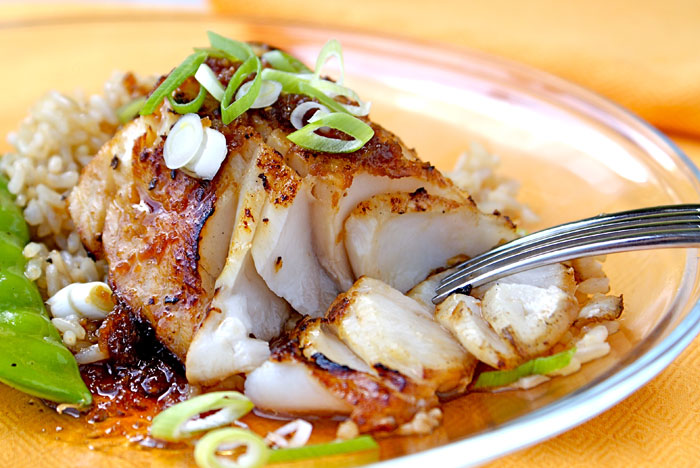 Source: nourishevolution.com
Marinate the fillets in a mixture (prepare and mix before adding the fillets) of a half cup soy sauce, a few cloves of minced garlic, a chunk of grated ginger (make sure all that good ginger juice goes into the mix when grating, as it's full of flavor), the juice of half a lemon, and a tablespoon or two of dry sherry. 
Let the fillets marinate for two hours, and then flip them and let them continue marinating another two hours. Finally, throw them on a hot grill (skin up) and flip after about 4 minutes, allowing more time on the skin side-basically until the skin is nice and crunchy, and the flesh flakes easily with a fork. Serve with a fresh salad and enjoy.
How to cook?
The second of our sablefish recipe is prepared in the oven.  Start by placing a few 6-8oz sablefish fillets (this time without the skin), salt and peppered and sprinkled with a tiny bit of flour, in a sprayed-down baking dish a few inches deep. 
Separately, sauté a large pan of onions, chilies peppers, red bell peppers, and garlic. After a few minutes, add plenty of cherry tomatoes, cut in half, as well as parsley, basil, oregano, and thyme (at your discretion, and don't be shy) as well as a ¼ cup of sugar and the juice of a whole lime. 
Pour this pan preparation over the fillets in the baking dish, and send it all, without a lid, to an oven at 450 degrees for about 15 minutes. Test with a fork to see the flesh flakes easily, and remove, and serve alongside or on top of Spanish rice. Just another of the many delicious sablefish recipes possible to make!
Role in fisheries
For more than 50 years Alaska's successful management practices for fisheries and the fishing industry have been recognized on the international stage as those on which the rest of the world should base its seafood industries.
The four principal commercial fisheries in Alaska, salmon, shellfish, groundfish, and together halibut and sablefish have been protected by sustainability laws written into the Alaskan state constitution in 1959. Widely sought after for the excellent quality of the fresh, wild seafood that comes from Alaska's icy waters, today those consumers who are eco-conscious and concerned about the sustainability of the planet are also drawn to products from Alaska.
In fact, the world has consistently modeled its fisheries management practice on a blend between the policies and practices of Iceland, and of course Alaska.
Multiple varieties
There are a wide variety of delicious seafood recipe out there, but consumers should note that sablefish, found in the North Pacific and very popular in Alaskan, Canadian, British, and Japanese diets, also goes by a variety of other names, including butterfish, black cod, bluefish, and coal cod.
The delicate texture and rich flavor of this ocean protein, regionally known as black cod, has yielded comparisons to sea bass, and the fish is chock-full of the anti-coronary disease fatty acids, omega-3s.
Black cod is harvested in the pure, icy waters off the shores of Alaska from March through November, making it a very well-priced, available product.
The market, however, is controlled by environmentally-conscious regulations, meaning that Alaska black cod is not just tasty and economical, but also sustainable.
For some interesting recipes, why not try Alaska, or black cod, with Asian ginger-lime sauce? Simple to prepare, the filets can be cooked stovetop with a splash of vegetable oil and some chopped garlic, while the sauce is a combination of garlic, chopped serrano chiles, sugar, and ginger, pounded into a paste, and added to a quarter-cup of fish sauce and a dash of lime juice.
Different taste and nutrients
Curry black cod is another tasty, heart-healthy option, as is the exquisite Alaska sablefish with a sugarcane marinade that is prepared with a variety of tropical ingredients such as fennel, sugar snap peas, pearl onion, and fresh ginger and cilantro, along with a homemade spiced lobster broth.
The exotic broth is crafted from a combination of peanut oil, lobster stock, Thai red curry paste, ginger root, and rock sugar, which are blended together and simmered on the stove. Serve roasted filets over dished lobster broth and the vegetables for an exotic platter with a heart-healthy Alaska black cod base.
Still need some more sablefish recipes? Consider a recipe with the poached variety, served with mustard-infused bread pudding or full seafood spread with smoked fish, Alaska king crab, and shrimp risotto. Another delicious gourmet meal can be prepared from Alaska cod filets with rich peppery Sofrito, cooked white beans, littleneck clams, and chopped chorizo.
All of these are sure to be certain crowd-pleasers. Head to the kitchen today to get started on your way to a great meal!
True sustainability in the fishing industry means that the long-term consequences of harvesting a seafood species are at a minimum.
This can cover avoiding any manner of damage from that of the actual population due to overfishing, to that which certain harvesting techniques can cause to the surrounding ecosystem or even pollution. In Alaska, such goals are met through strict regulations as well as strict enforcement of said regulations.
Alaska's successful management practices have successfully maintained and even regenerated top seafood species in the icy Alaskan waters, proving such methods truly achieve results.